Community Nights Featuring Homework diners have kickoff for the 2022-23 school year. And with all the excitement happening at our schools many of the UWABC staff have been taking time to meet students, families, and teachers.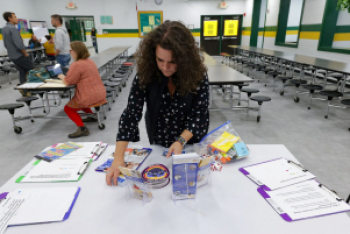 Deborah Calhoun, Director of Community Partnerships, is one of the UWABC who has been visiting various community schools this month. She has a mission to listen to students, teachers, and families.  She is currently leading the effort to redesign the United Way Community Investment model, with a strong focus on the lived experience of the Buncombe County community members. 
This new process signifies a significant shift in how United Way operated in our previous 100 years in the community. One team UWABC that has been taking a deep dive into financial and grant-making equity is The Planning and Community Investment team. They have been explicit about acknowledging the harms our institution has perpetrated, particularly within Black, Indigenous, Latinx, and other communities of color. They are seeking to foster better relationships through funding and the grant-making process, along with other avenues. This is why UWABC is in the process of co-creating, with the entire community, a New Community Investment Design Pilot. 
Deborah Calhoun who is leading the New Community Investment Design Pilot describes the new community wisdom and equity-focused work at United Way as, "a mindset shift but also a heart-set shift." This is why Calhoun is showing up to Community Schools to allow community members to tell United way what they would like to see this program look like.
To create a new investment design, we first had to rethink our last 100 years. UWABC cohort and CoThink staff member, Tera Coffee says, "We have to change how the grant-making process works while thinking about the idea of nothing about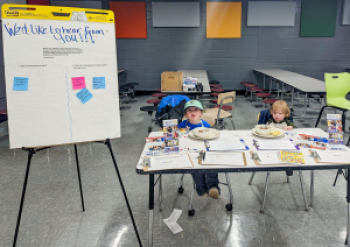 us without us", said Coffee. "This brings us to the idea of participatory grantmaking, meaning when you are actually working with the community and empowering our community with funds to do the work; that work should be led by the collective wisdom of the people who will use those services." 
With the New Community Investment Design Pilot, we will be trusting community-created solutions and using community voice and wisdom to determine where, how, and what is funded by United Way. "Part of this process that is really important is admitting the harm [that has been perpetrated by United Way within its 100 years in Buncombe County] and this process is about how to fix that harm," said UWABC Investment Design Member,  LaVie Montgomery. "United Way is one of the few organizations around our town that is moving the needle forward and it is messy work."
As we move forward with the nuanced work of centering community wisdom and lived experience, Deborah Calhoun will still be visiting Community Schools and community spaces. And UWABC will stay committed to asking Buncombe county residents about what they believe this committee of people should be comprised of via social media and our newsletters.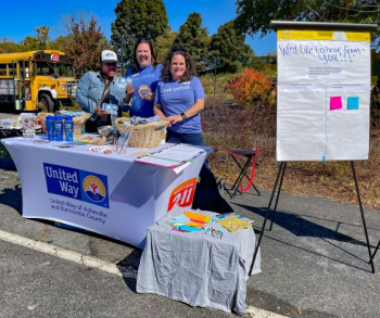 We are now entering a stage that will begin how we determine WHO is funded. The initial New Investment Design Pilot will be funded with $250,000 with all investments supporting the Bold Community Goal. The process of who gets funded by a Community Grants Committee, which is a title that is tentative and flexible because of the group that has yet to be formed. However, United Way wants to extend the invitation to any and ALL community members who are interested in taking part in this new work with us, to join us at a 'design day'. This event will help us discover what the New Investment Design Committee will look like and from there a roster of the community members who make up the Community Grants Committee will be determined. As we move forward in designing the community grants we hope that you will join us in our goal to make how we invest entirely driven by community wisdom.  
If you are interested in learning more or becoming an active member in this process, give your feedback HERE