"Building a Modern Village"
10/23 - Courtney Kelly, By Little Media
In this blog, the case is made for why education matters for the health and wellness of individuals and a larger community and the tangible ways that we all can do our part to ensure that ALL children have access to the support they need to succeed. Interviews include Laura Elliot, talking about the power and promise of Community Schools, and Jodi Grant, Executive Director of the Afterschool Alliance. 
To read the full piece simply sign up for a free trial to the group's channel.
---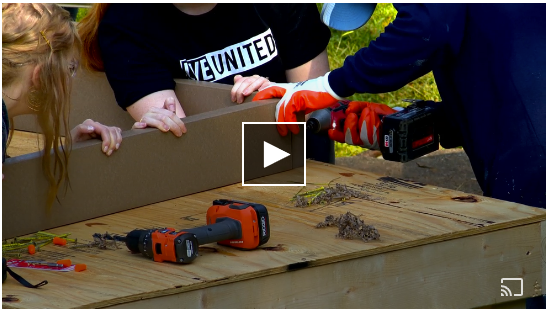 'Something that lasts for generations:' Community rallies to build park, honor slain mother
WLOS -- 
---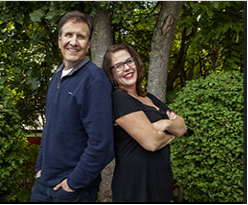 Interview with Dan Leroy
Asheville Area Focus Podcast -- 10/23
Melanie and Michael at Asheville Radio Group asked some great questions of Dan Leroy about our work, how we choose the issues we work on, and how we measure our achievements. Listen to the full podcast here. 
---
What to know before Asheville-area school starts: Supply costs, after-school programs
Asheville Citizen-Times July 31,2023
The nonprofit has held a school supply drive for 17 years. In that time, it's given out over 23,000 backpacks to students in the community, Audrey Blackburn, volunteer engagement manager at United Way told the Citizen-Times. "We work with teachers and school administrators, and we've got our own community school coordinators, and they helped us look at last year's supply list and through their best guess came up with what they think will be needed this year," Blackburn said.
---

Interview with Audrey Blackburn
BlainesWorld Podcast 7/18/2023
Big thanks to Blaine Greenfield for taking the time to interview Audrey Blackburn, our Volunteer Engagement Manager. Audrey shares how United Way mobilizes the power of community through volunteerism and talks about some of our signature experiences. Also, Blaine is just wonderful - he believes in the power of good and people and positivity.  Watch them here on YouTube. 
---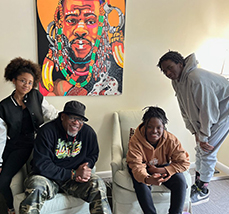 Teens Discuss Participation in the 'Hour of Hope' Podcast
Mountain XPress--May 12
What started out as a summer camp for youth, HOPE (Healing our Past Experiences) 4 the Future has evolved into a full-blown after-school program. Run by UMOJA Health, Wellness and Justice Collective, a United for Youth partner, the program incorporates a regular podcast whereby youth are empowered to unpack and discuss issues that are important to them. Youth-to-youth discussions range from individual accomplishments to bullying, and violence prevention.
Read the full article to discover more on this important program.
---
Mountain XPress--March 14
In addition to navigating the daily trials of being a teenager, today's youth also face other challenges, one being social media. Read what our own Jocelin Rosas, Erwin Middle's Community School Coordinator has to say about this and other issues.
---
Asheville Citizen Times-- March 12
A guest opinion piece by retired Buncombe County Schools Associate Superintendent and current United Way Board Chair, Susanne Swanger, and United Way President and CEO, Dan Leroy. Ensuring our youth graduate from high school college, career, and community ready will take all of us working together.
---
Mountain Xpress-- May 30
The first of its kind in Asheville City Schools, on May 2, 2022, Asheville Middle School launched its School-Based Health Center. The outcome of work conducted in collaboration between United Way of Asheville and Buncombe County, MAHEC, Buncombe County Health and Human Services, Buncombe County Schools, and Asheville City Schools, with Blue Ridge Health providing the services, these clinics bring much-needed health services to students directly in the schools they attend. Expansion of these clinics into the Buncombe County Schools system is scheduled for later this year. 
Read the full Mountain Express article.
---
Mountain Xpress-- March 29
Local Community Engagement Markets are playing a key role in helping Buncombe County families access a wide variety of services. With the recent spike in inflation, these markets are helping residents weather the storm. Born out of a partnership between MANNA Food Bank and Buncombe County's Community Engagement team, the network has expanded and includes a diverse set of partner organizations committed to ensuring no family is left behind. These markets offer a way to build relationships and connections through the provision of food at no cost to the public, along with resource connections to services offered by Buncombe County and community partners.
To read the full Buncombe County press release, and to find a local market, click HERE.
---
WLOS-- March 11
Starting mid-April, 2022, Asheville Middle School will be the first of two schools within Buncombe County to implement what is known as a School-Based Health Center. Located directly on a school's campus, the School-Based Health Centers (SBHC) are fully functioning health clinics that will provide a variety of behavioral, mental, and physical health care services.
Read and watch the full WLOS story HERE.
---

Mountain Xpress-- November 12
Ensuring students have a voice in determining their academic success is a key component of United Way's community school strategy. "Youth are speaking all the time, whether they're at the table or on social media or in the classroom or lunchroom. The question is really, how does it feel when adults actually listen to what youth are saying," said Joseph Jamison, United Way's Equity and Network specialist in a recent interview with Mountain Xpress. 
Read the full interview to learn more about Joseph's collaborative work in lifting up student voices.
---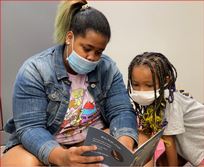 Mountain Xpress-- September 3
Organizations throughout Buncombe County, including United Way of Asheville and Buncombe County, have been working together over the summer to provide programs that address inequity in learning. "We wanted to be solution-oriented and meet people where they are. We wanted to support students, families, and the community, and to do it without rhetoric but with on-the-ground work," shared Tiece Ruffin, interim director of Africana studies and professor of education and Africana studies at UNC Asheville. "It isn't hard to see how academic success is too often undermined by inequities in issues such as hunger, homelessness, violence, poor health, and other social problems," added Laura Elliot, senior director of community schools and network development at United Way. "This means that the opportunity gaps aren't just a school-based problem, they're a community responsibility."  Read the full article from Mountain Xpress here. Photo credit Literacy Together, lead photo from the article. 
---
Asheville Citizen Times-- May 24
United for Youth started in 2013 when representatives from several youth service organizations, United Way of Asheville and Buncombe County, and Asheville City and Buncombe County Schools began discussions about establishing a youth development network. "It's really been an organic evolution to what is now United for Youth," UWABC Director of Community Schools Laura Elliot told ACT. "It's really grown into this multi-generational cradle-to-career partnership-- a partnership really built on the foundational principle that equity and educational excellence are inseparable."  Read the full article and hear from student and county leaders here.
---
WLOS-- April 19,2021
Buncombe County Commissioners were presented information on joining the United for Youth Network partnership agreement in an effort to close the widening disparity in our local schools. Our CEO Dan Leroy shares, "Right now there is a shared urgency around this challenge of the lack of equity in our education system." Read the full article from WLOS here.
---
WLOS-- December 7, 2020
Calls to North Carolina's social service emergency help line have doubled over the past year because of the COVID-19 pandemic, NC 211 Director Heather Black shares with WLOS. Hear our very own Asheville-based 211 Community Resource Specialist share more on the moratorium and how she's been supporting callers HERE.
---
WLOS-- September 8, 2020
 United Way of Asheville and Buncombe County has launched a survey to help collect information on local pods to create a list for local families to understand where they're located and what gaps there are in the community. Hear the news segment on WLOS here.
---
WLOS-- August 14, 2020
When seventeen year-old Jo Gratz was forced to finish the school-year from home in light of the coronavirus pandemic, she decided to put that time to use volunteering to support the community. After her mother saw a call for face masks for the community through United Way, Gratz launched a project to create thousands of protective face coverings and donate them before leaving for college in the fall. Read the full story on WLOS to learn more about her inspiring handiwork.
---
WLOS-- July 28, 2020
If you want the 411 on the pandemic's economic impact, talk to United Way of Asheville and Buncombe County's 211 staff. 211 operators are equipped to answer general COVID-19 questions and provide information and referrals around food and rent assistance. Those calls coming in from across the state provide a glimpse of the need. Since March, 211 has fielded 85,000 calls. And instead of just hearing those voices, United Way wants to also help amplify them through an online survey launched this week. Read the full story to learn more.
---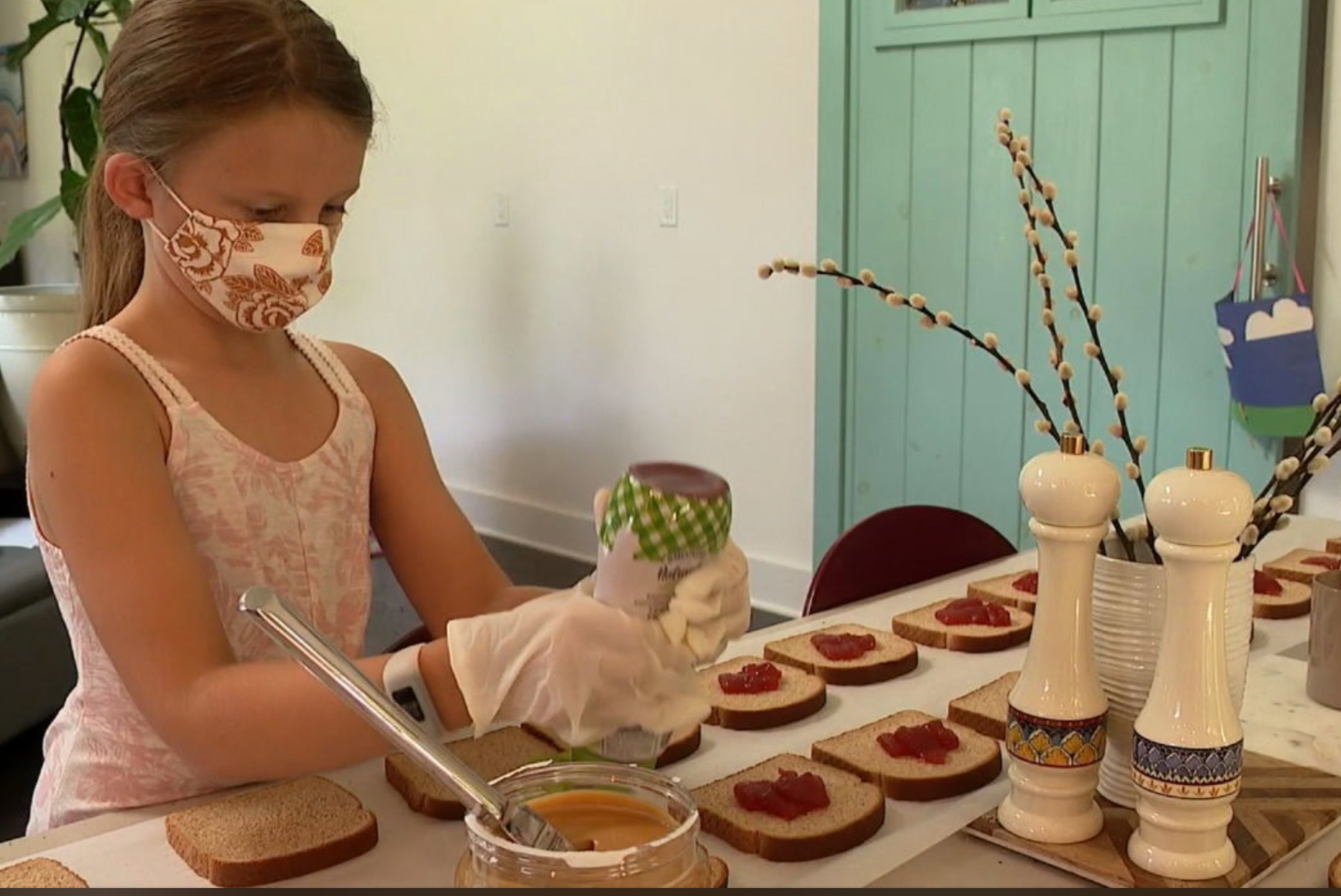 WLOS--July 10, 2020
9-year-old Evie started making sandwiches to support Homeward Bound of WNC several months ago after her mom saw a volunteer listing through HandsOn Asheville-Buncombe, volunteer center of United Way of Asheville and Buncombe County, empowering locals to stay connected and support their community through COVID-19. "For me, it's just to show them that even when things feel sort of rough and we feel a little helpless about the state of the world, there's always something you can pick up and do for someone else," said Evie's mother Lauren. Read the full story. 
---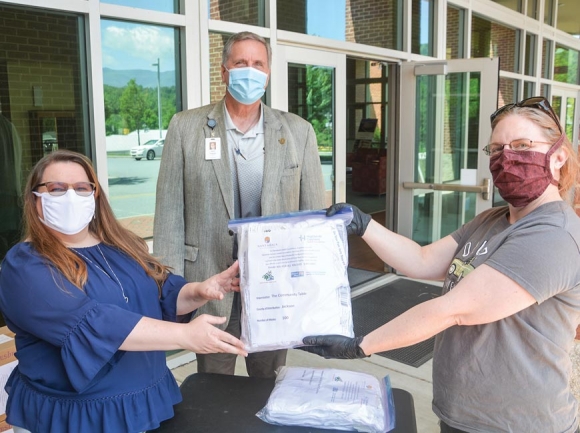 Smoky Mountain News-- July 8, 2020
Southwestern Community College hosted Nantahala Health Foundation representatives as they set up a mask distribution site at the Burrell Building on the Jackson campus. The mask distribution resulted from a collaborative effort between Nantahala Health Foundation, United Way of Asheville and Buncombe County, and the State of Franklin Health Council to distribute face coverings to nonprofit organizations throughout Western North Carolina. "We are very grateful to be one of the many nonprofits getting a distribution of masks to give out to our visitors. These are people who may otherwise have no way of getting one to protect themselves and others," said Paige Christie, Director of Community Table in Sylva. Read the full story here.
---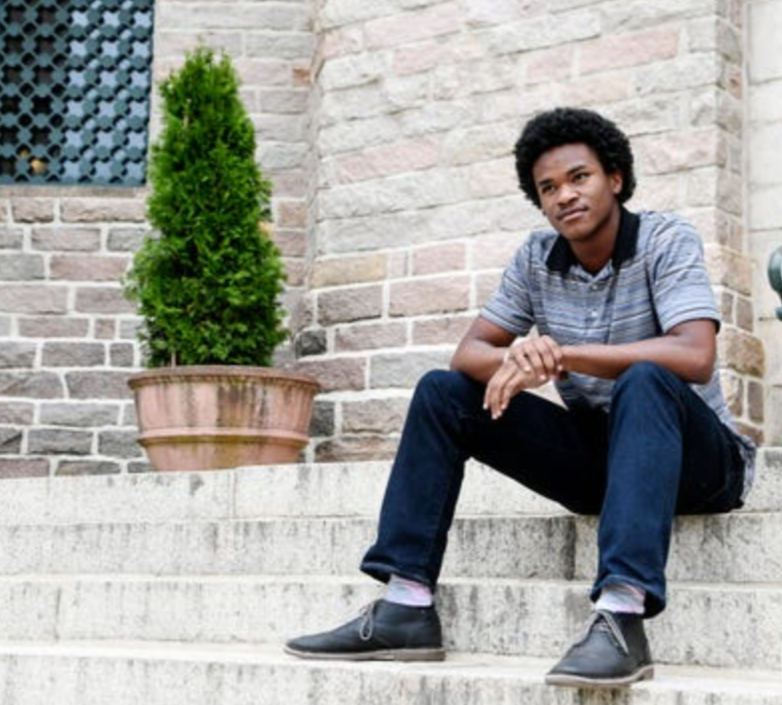 Asheville Citizen Times--May 26, 2020
"New data provides a window into how Asheville area students viewed their mental health, coursework, and new grading metrics during months of remote lessons because of the coronavirus pandemic. Administered by students themselves, the Uplifting Youth Voices-- COVID-19 Survey asked 369 middle and high school students at Asheville City Schools and Buncombe County Schools to rate their transition to virtual learning. During a May 21 online panel hosted by United Way of Asheville and Buncombe County, two ACS high school students discussed both these survey results, as well as what adults could learn from hearing youth voices during the pandemic." Read on to learn more.
---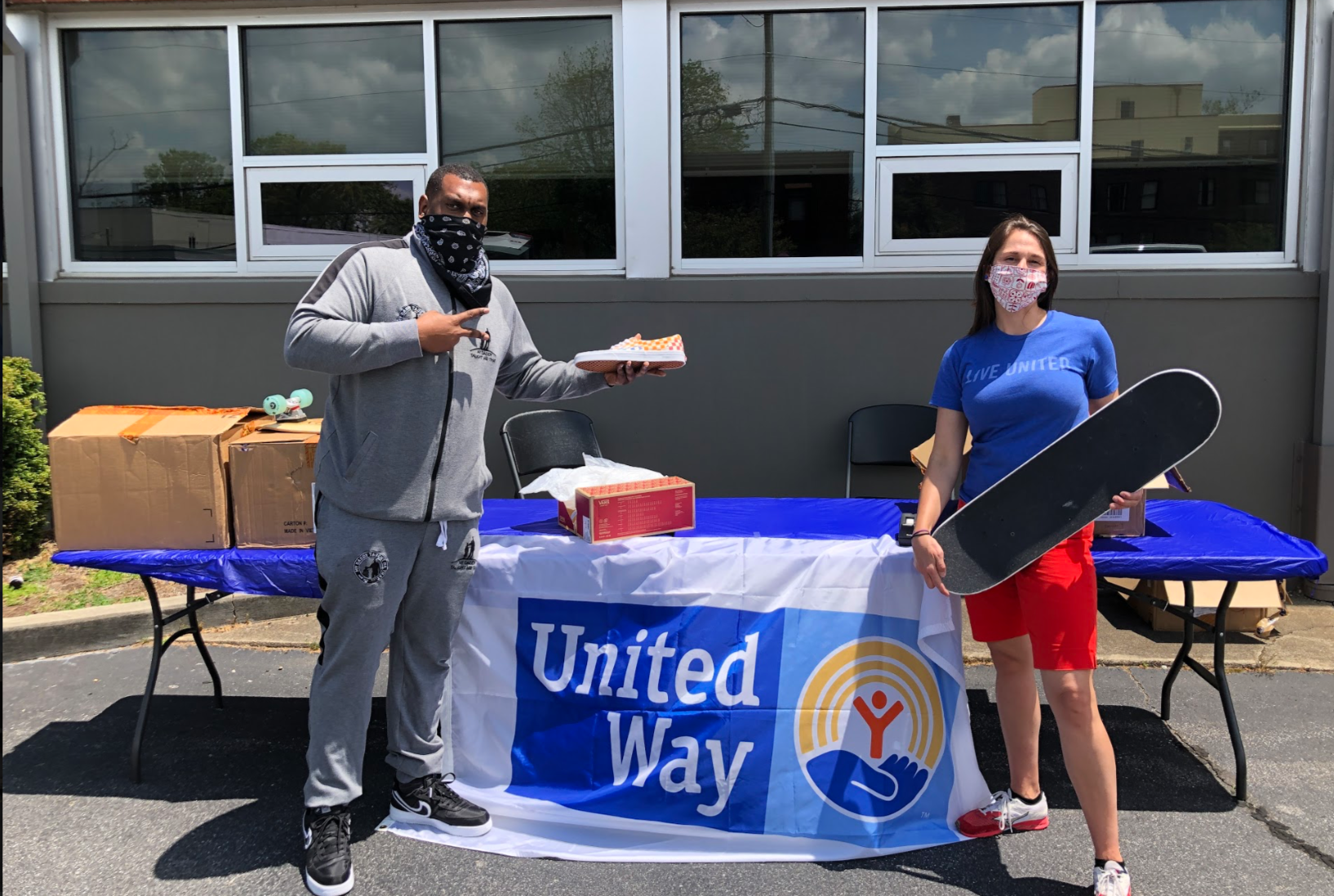 WLOS--May 15,2020
Vans generously donated 144 pairs of shoes to volunteers who have shared their time with local nonprofits to support the community through the COVID-19 pandemic. In the past eight weeks, volunteers have donated 7,000 hours to organizations ranging from ABCCM to MANNA Foodbank. Volunteerism through the coronavirus crisis has spiked 50% higher than at the same time last year. Take a look at the full article on WLOS to see photos of volunteers receiving Vans and hear more about their experiences volunteering in the community.
---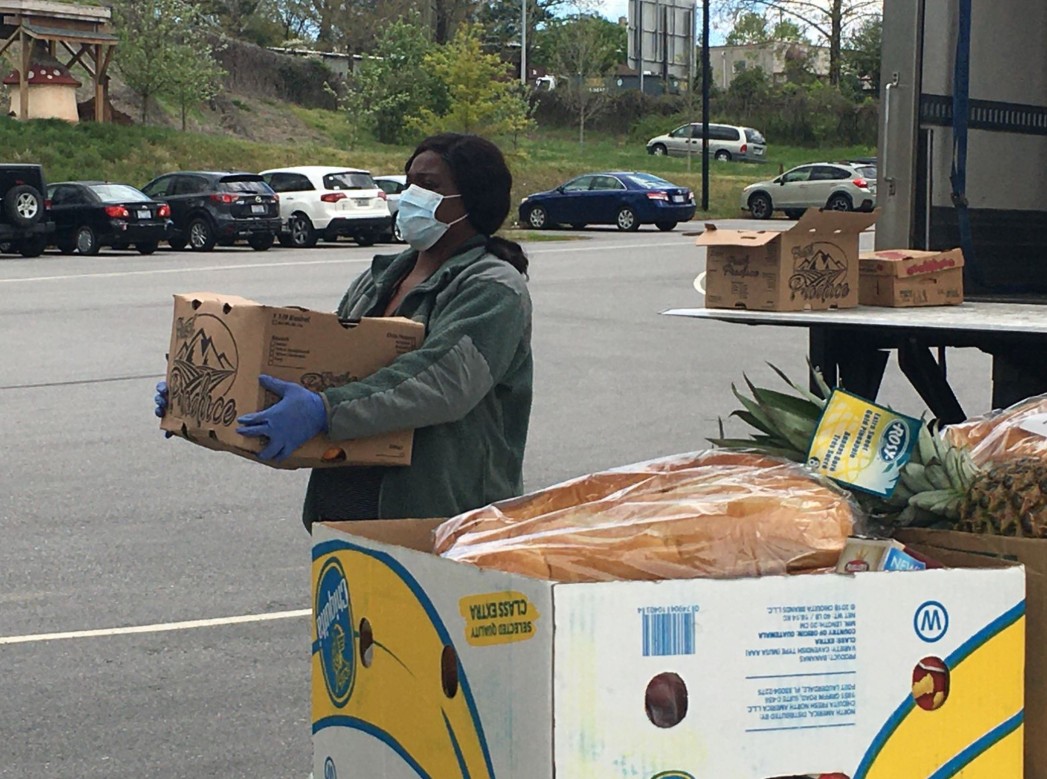 WLOS--May 1, 2020
Since the coronavirus, folks have filled 825 volunteer roles in the community through Hands On Asheville-Buncombe, United Way's volunteer center. "They put us on an email which I shared with a bunch of friends, where you can sign up for what you want to do," volunteer Pam Eveland tells WLOS. Our Community School Coordinator Bruce Waller adds, "No one person or organization can do this. It takes a community effort." Read the full article on WLOS here.
---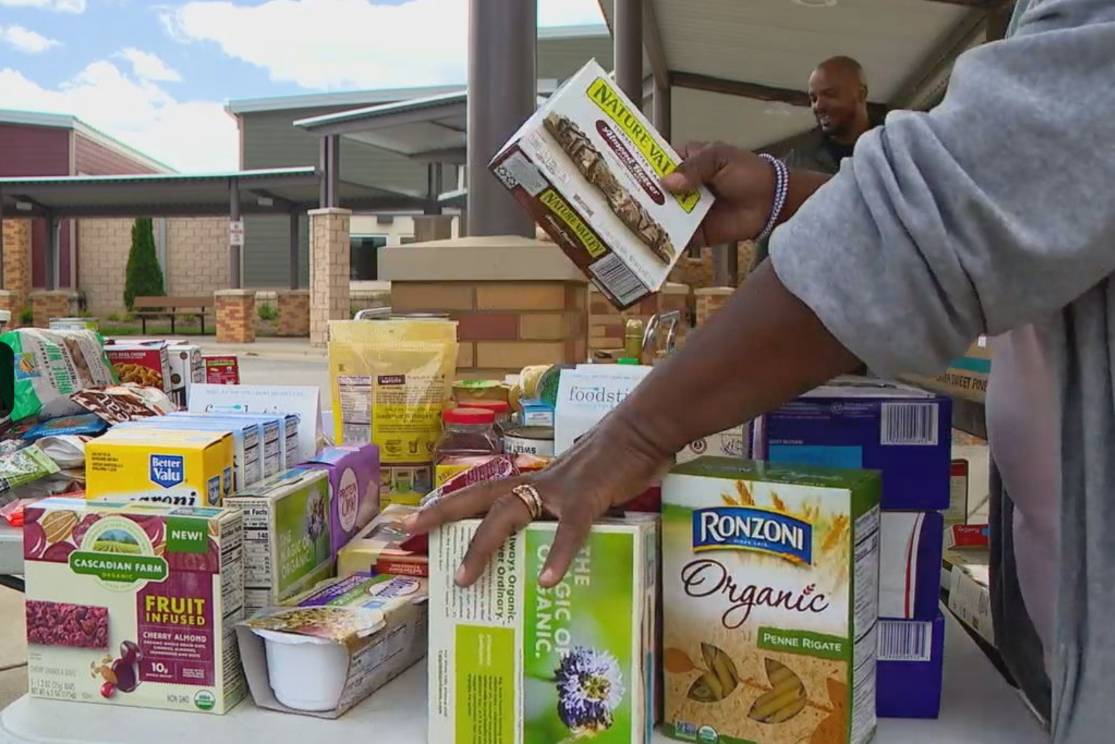 WLOS-- April 21, 2020
2,500 pounds of food were boxed up and ready for curbside pickup at Isaac Dickson Elementary to support families in Buncombe County, one of many local food markets happening during COVID-19 thanks to MANNA FoodBank, Asheville City Schools, and United Way of Asheville and Buncombe County. See the full article and video on WLOS.
---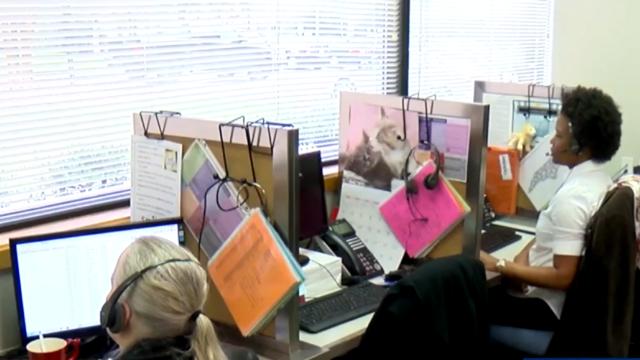 WRAL-- March 27, 2020
"Governor Roy Cooper's announcement of a statewide stay-at-home order caused a spike in traffic to 2-1-1, North Carolina's information line regarding coronavirus. 'A lot of it is just reassurance and letting our callers understand that this is a lot of information to take in. For many, it's 'Hey, I lost my job, what are the resources available to me,' shares NC 2-1-1 Community Resource Specialist Keisha Lewis from our Asheville 2-1-1 call center."
Read the full article on 2-1-1 community support during the coronavirus on WRAL.
---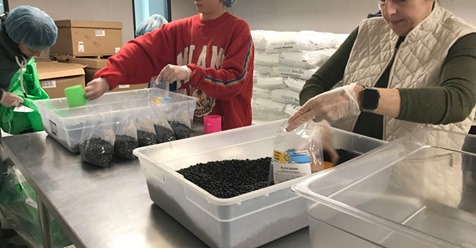 Mountain Xpress-- March 26, 2020
"Even before the coronavirus hit WNC, MANNA Foodbank saw substantial needs throughout the community, Kara Irani shares with Mountain Xpress."But due to the cascading economic implications of job losses caused by COVID-19, she says even more families are finding themselves with food insecurity. Among MANNA's approaches to reaching new volunteers is United Way of Asheville and Buncombe County's Hands On Asheville-Buncombe's volunteer platform. Read the full article on how neighbors are helping neighbors through volunteerism in response to COVID-19.
---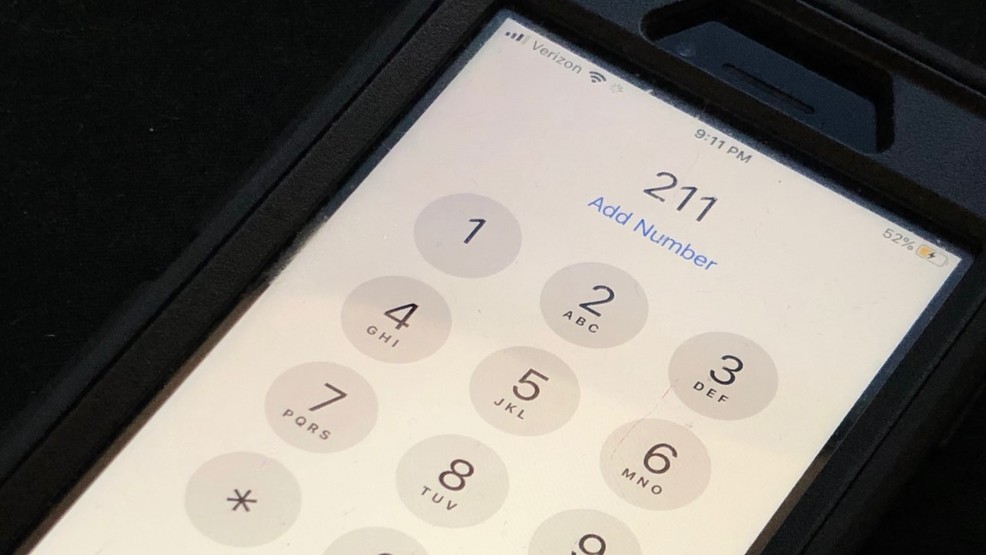 WLOS -- March 18, 2020
"United Way of Asheville and Buncombe County is encouraging people to call 2-1-1 for free, confidential help regarding coronavirus resources. NC 2-1-1 is an information and referral service that families and individuals can call to obtain free and confidential information on health and human services resources within their community. NC 2-1-1 operates 24 hours a day, seven days a week, 365 days a year, and resources are available in most languages." Read the full article from WLOS here.
---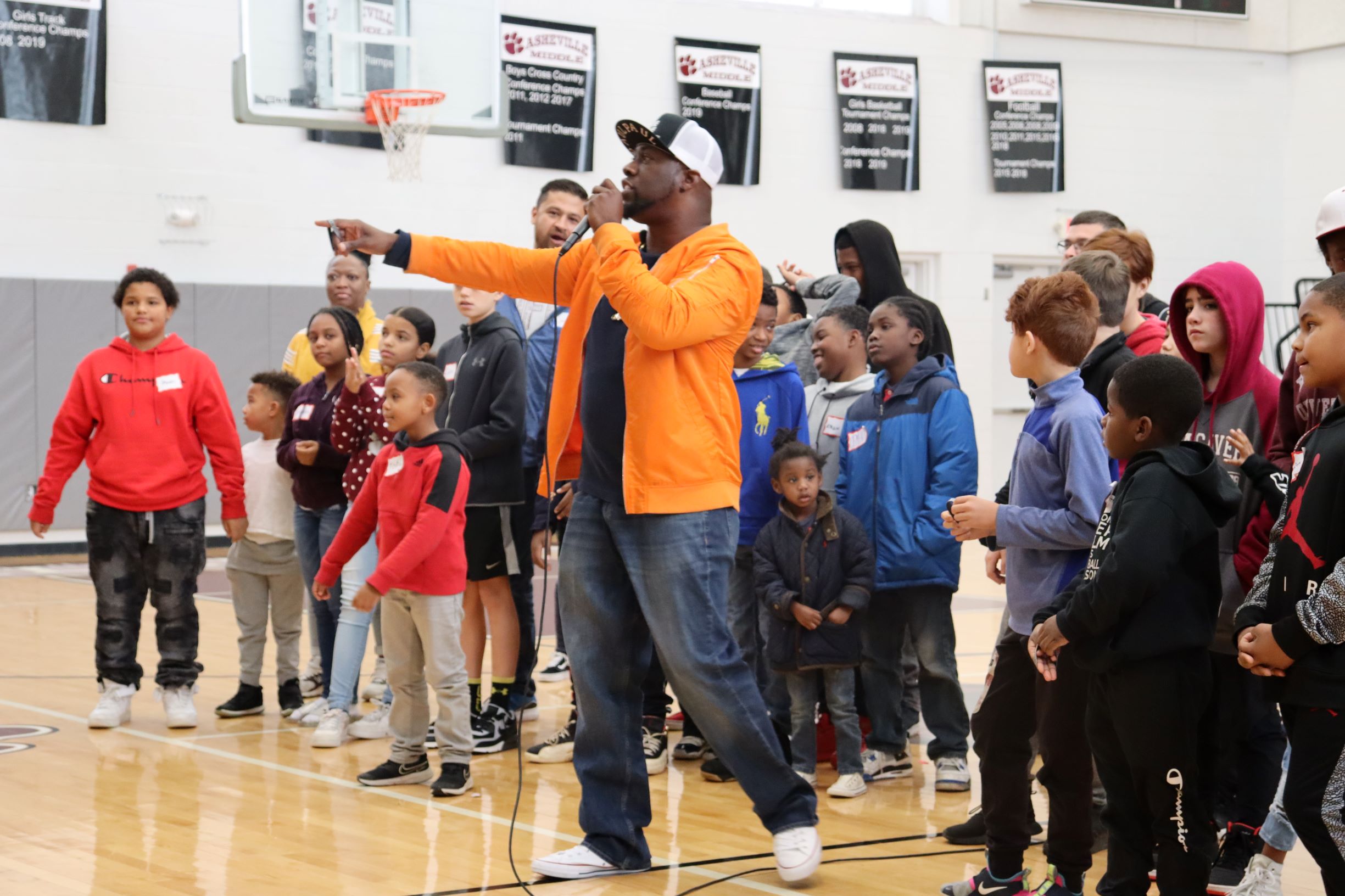 Mountain Xpress -- December 12, 2019 
"The Buncombe County Sheriff's Office along with co-sponsors Buncombe County Schools, Western Carolina Rescue Ministries, United Way of Buncombe County, Asheville City Schools and the Justice Resource Advisory Council are bringing together key stakeholders in the criminal justice system for a series of trainings and public events on restorative justice practices from Dec. 12-14." Follow the link to this press release as well as photos from the community event featuring SaulPaul, award-winning musician, speaker and author. 
---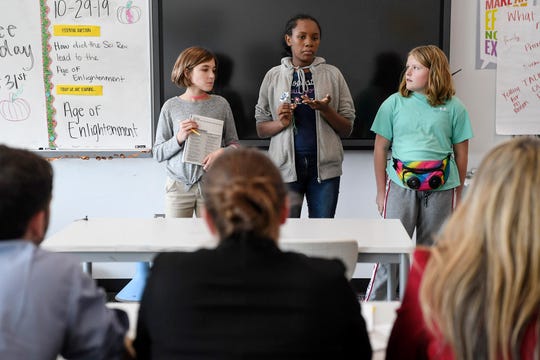 Asheville Citizen Times-- October 30, 2019
"On October 29, Cougar Tank came to Asheville Middle School. Organized by the after school program In Real Life in partnership with United Way of Asheville and Buncombe County, Cougar Tank was an opportunity for local students jump-start their own businesses, to learn first-hand business success or failure." Watch a short clip from the day and hear what students and teacher Mrs. Portugal had to say about the experience. 
---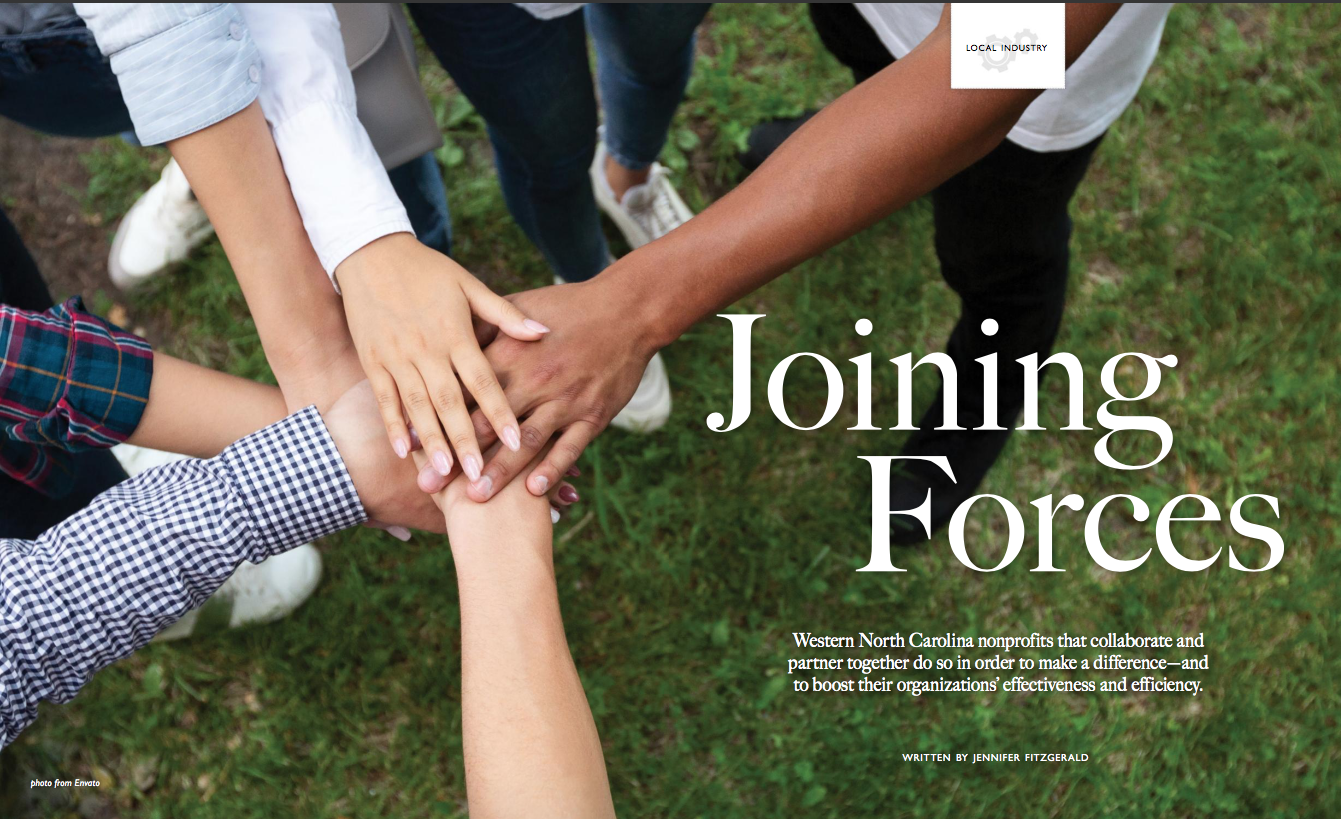 Capital At Play-- October 20, 2019
United Way is a nonprofit with plenty of experience in partnering with other nonprofits. Through their community school strategy, they are working with Asheville City Schools, Buncombe County Schools, and more than 50 nonprofits and public service partners to remove the barriers to student success by coordinating and amplifying services that address academics, youth development, physical and mental health care, and other social services that support not only student success, but also strong families and engaged communities. Read the full article on Western North Carolina Nonprofits in Capital At Play.
---
"Making a Difference: Locals Roll Up Their Sleeves for Nonprofits in Need"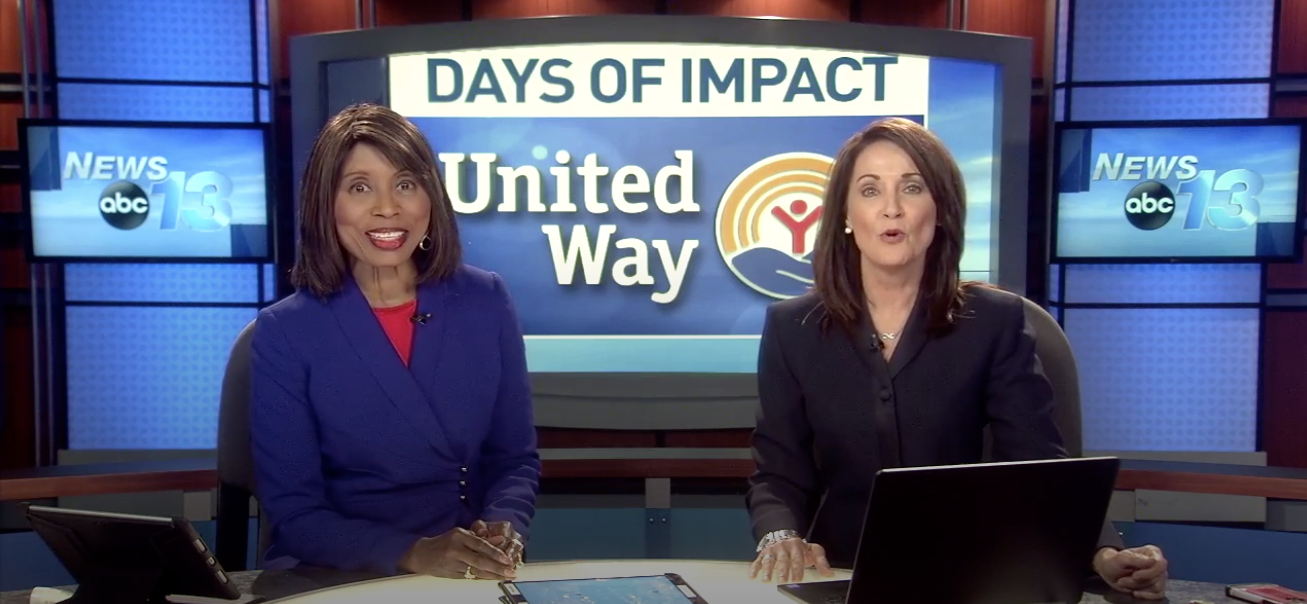 WLOS-- October 10, 2019
Dozens of businesses and organizations fanned out to make a difference in the community Thursday. "It's a great opportunity for people to have a first-time experience with a nonprofit they may have never had a chance to even think about, and now we have a great introduction to their work," said Elisabeth Bocklet, Director of Communications for the United Way of Asheville and Buncombe County." Watch a clip of volunteers in action during United Way of Asheville and Buncombe County's annual Days of Impact. 
---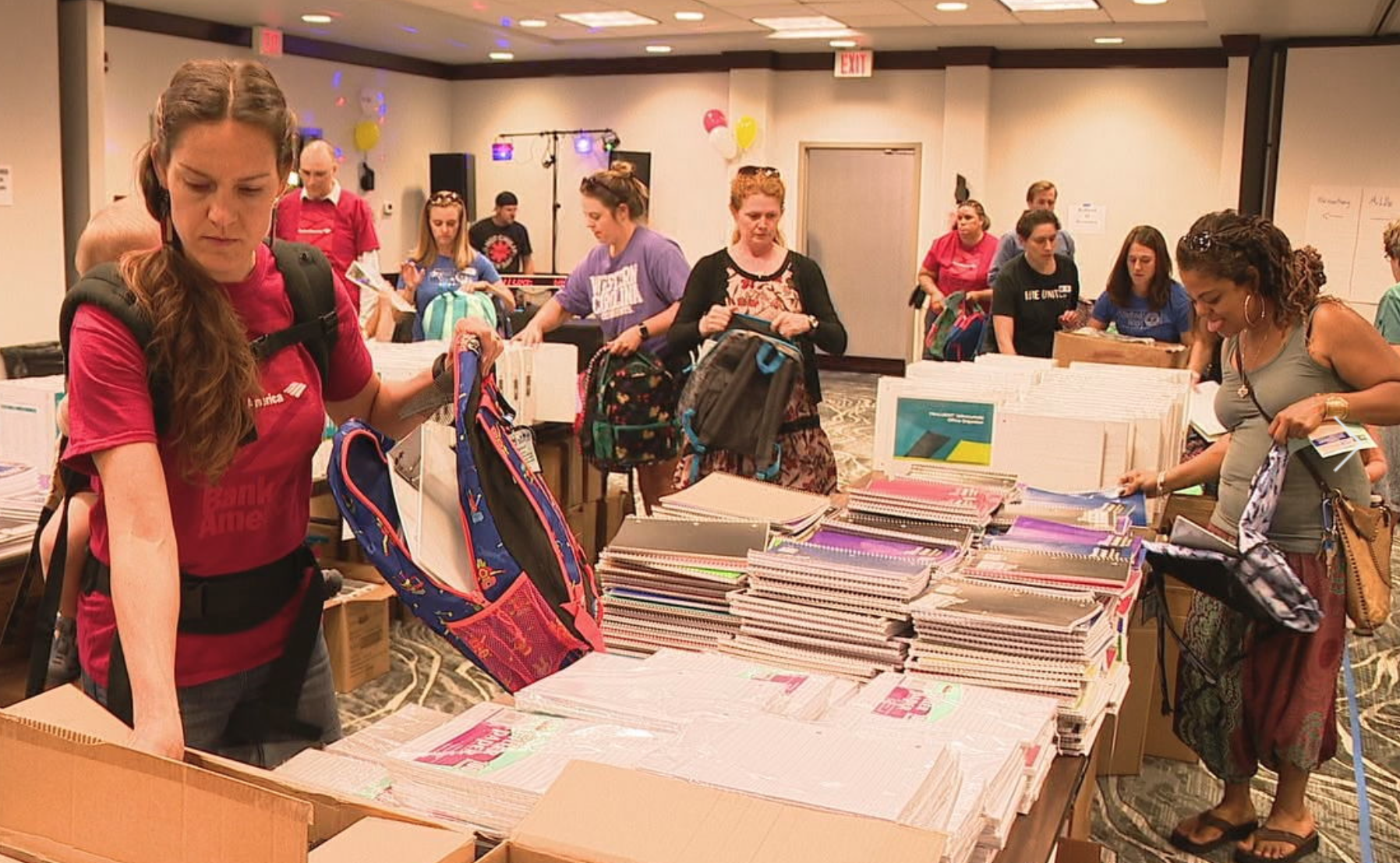 WLOS-- August 13, 2019
The Pack-n-Sort Party marked the end of United Way of Asheville and Buncombe County's back to school drive, which is in its twelfth year. Volunteers packed and sorted more than 1,000 backpacks for middle and elementary schools. The backpacks will be distributed to local students.
Watch a clip from WLOS of volunteerism in action that evening.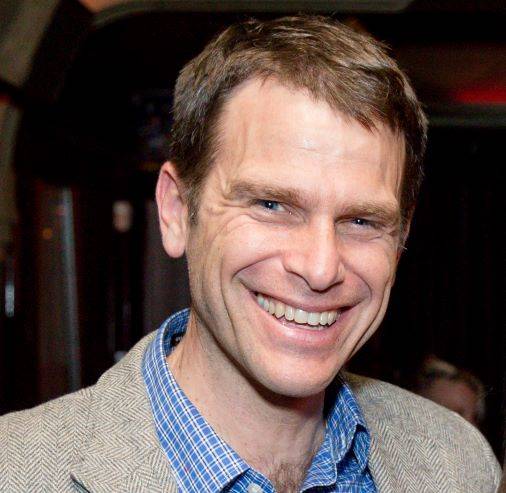 Mountain Xpress-- March 29, 2019
United Way of Asheville and Buncombe County announced on Wednesday that it has hired Dan Leroy as its next president and CEO. A search committee consisting of board and staff leadership, and led by Walker-Wilson Consulting, conducted a nationwide search after current CEO, David Bailey, announced his retirement following 23 years of service with the organization.
"It is an incredible honor to follow David Bailey as the next president and CEO of United Way of Asheville and Buncombe County. " Leroy said. "David and his outstanding team of staff, board members and volunteers have done a brilliant job positioning UWABC to be a powerful agent of systems-level change in Buncombe County. I couldn't be more excited to join them in their efforts to ensure every person in our community has access to good jobs, quality health care and a first-rate education." Read the full press release.
---
Learn United Holds Community Book Discussion in Preparation for Author Bryan Stevenson's talk at UNC Asheville
Mountain Xpress--April 23, 2019
United Way of Asheville and Buncombe County received donated copies of Just Mercy: A Story of Justice and Redemption collected by UNC Asheville faculty and staff through a campus fundraiser in preparation for Author Bryan Stevenson's talk. United Way was only one of the recipients of the 115 books, which they put to good use in their Learn United program, a professional learning series open to the public focused on books and articles related to the disparity in education, income, and health.
Elisabeth Bocklet, United Way's director of marketing and communications, says Learn United helps participants achieve a deeper understanding of problems many local residents face. From racial inequity to hunger, from housing policies to education, each session is a chance to gain greater insight into some challenging social issues. 
The discussion preceded Stevenson's on-campus discussion of the book on April 25th. Read the full article.
---
Capital At Play-- November 2018
Today, the Asheville Middle Grades Network--the collaborative effort of United Way of Asheville and Buncombe County, Asheville City Schools, Buncombe County Schools, and more than 50 nonprofit, higher education, public and private health and human service providers, faith communities, and business leaders--is working to transform our area middle schools so that they can serve as hubs with services that support students, strengthen families, and engage communities. Learn more about the Asheville Buncombe Middle Grades Network as well as how your business or nonprofit can get involved.
---
WLOS-- September 2018
We're looking forward to another school year of weekly family engagement events at Asheville Middle School, Clyde A Erwin Middle, Charles D. Owen Middle School, and Enka Middle School. Thanks to WLOS ABC 13 for featuring the UNC Asheville Men's Basketball team in action last week at Asheville Middle as they helped serve the meal to students and families.
Watch the full clip here.
---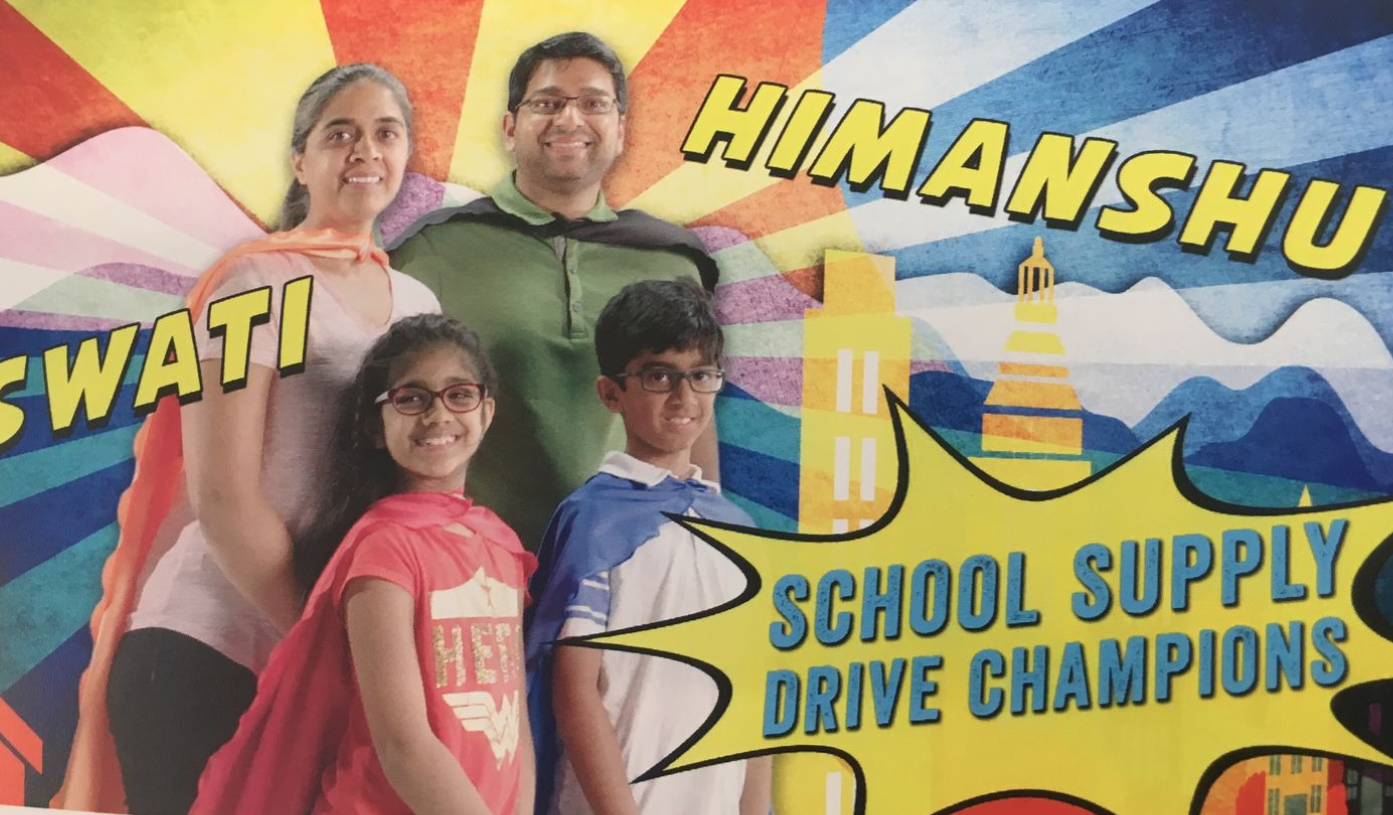 WLOS-- July 2018
At the United Way of Asheville and Buncombe County, there is a room full of school supplies. They are a luxury far too many families cannot afford. The Backpack to the Future drive helps 2,400 local children start the school year prepared. Our Persons of the Week, Himanshu Karvir and his wife Swati Patel, have made the drive their annual passion project. They help collect hundreds of backpacks every year. Learn more about this inspiring family dedicated to community on WLOS.
---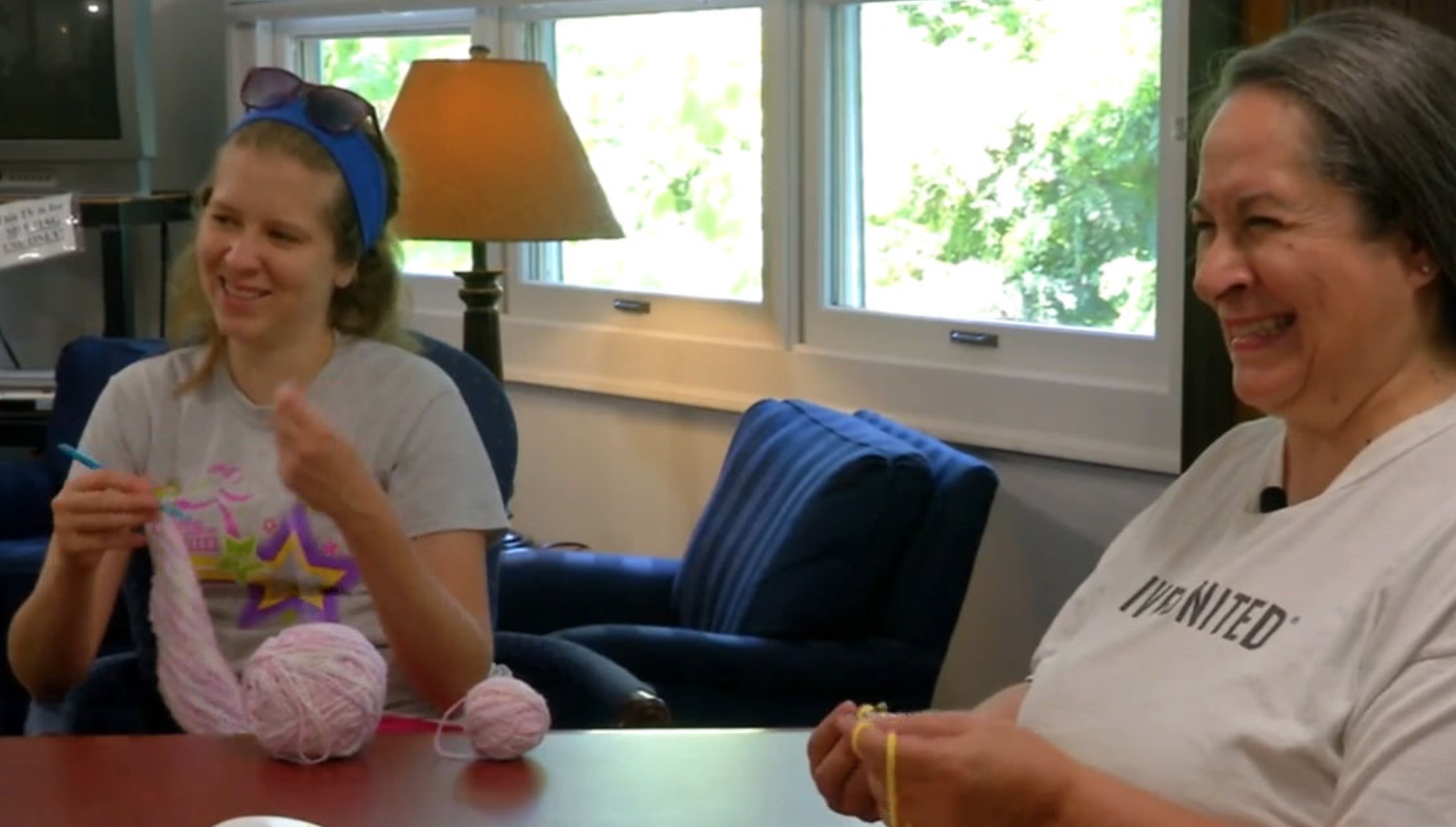 WLOS-- June 2018
"Once a month, a group of women with United Way of Asheville gets together to knit a variety of items for different charities in the area. It's part of the Knit n Give Project. The women craft hand-made hats for newborns and their mothers, along with adults. They also make blankets and scarves to keep folks warm during the winter months. The items are then given to Western North Carolina Community Health, AHOPE, Homeward Bound, and Mountain Area Health Education Center." See the full story and video on WLOS.
---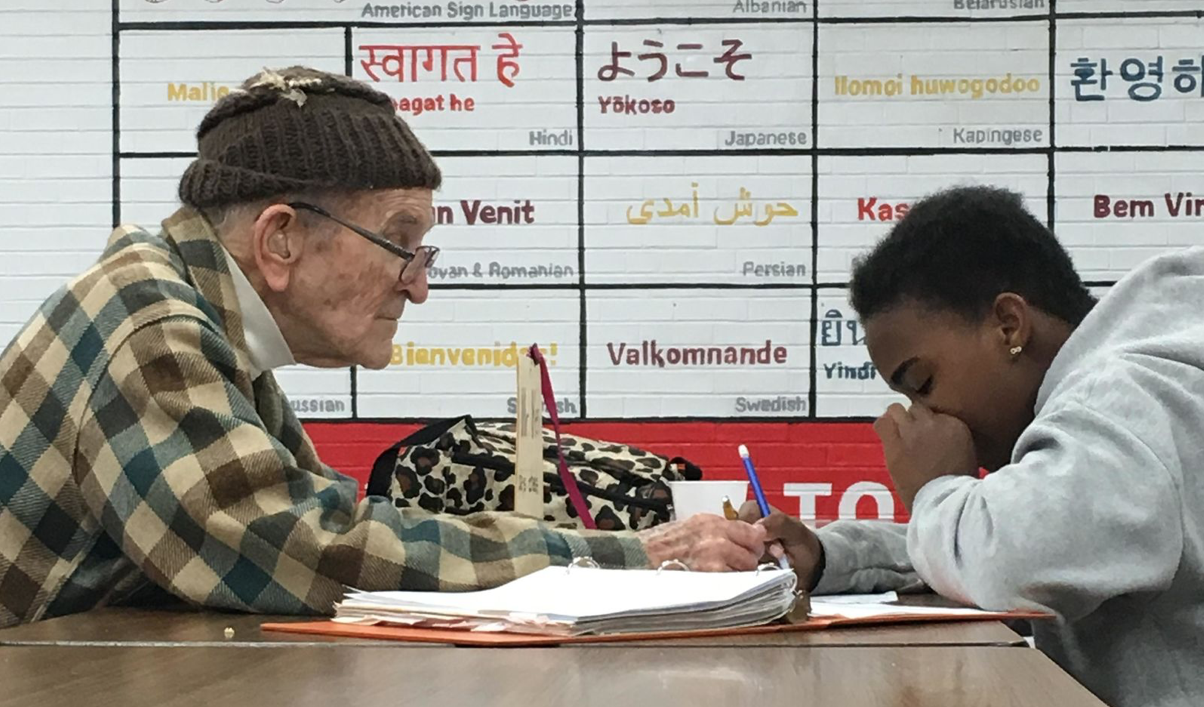 WLOS-- February 2018
"Our Person of the Week, Ken Maultsby, is a World War II veteran now serving his community by reaching out to the next generation. "They can do anything they set their minds and hearts to. They are gifted," said Maultsby, who goes by Mr. Ken. Maultsby is a volunteer at the weekly Homework Diner at Erwin Middle, which gives students and their families a hot meal and a little extra help. It's a program sponsored by the United Way of Asheville and Buncombe County. United Way contracts Green Opportunities kitchen staff to provide the food. It doesn't take a math whiz to know life is like a box of variables, because you never know what you're going to get.
Mr. Ken is part of the Greatest Generation that's often a forgotten resource. He believes the equation that defines who kids become is built on discipline. "Hopefully I'm a factor in helping them make good decisions," said Mr. Ken, who's the unexpected "X factor." Read the full story on WLOS.
---
"United Way Program Broadens Owen Middle School's Scope this Fall"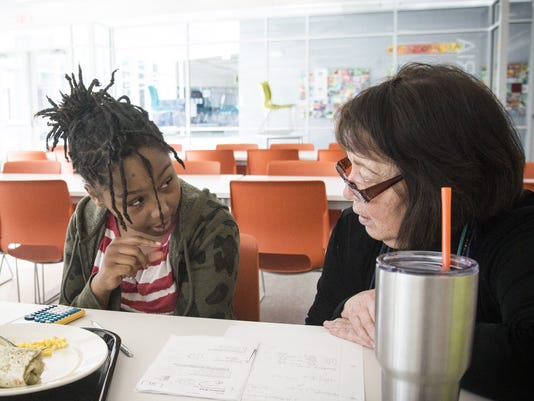 Black Mountain News-- May, 2017
"United Way of Asheville and Buncombe County is planning to make Owen Middle the fourth middle school in the area to have a community resource coordinator who will connect families of students at risk of failing to services that help the students work toward high school graduation. United Way's Middle School Success Initiative is already in place at Asheville, Erwin and Enka middle schools. United Way hopes to replicate it at all seven middle schools in Buncombe County.
The "community school" strategy, a national model upon which the initiative is based, addresses more than a student's performance. It also supports the health and financial well-being of a student's family. Doing so helps local families and elevates the community in which they live, so the thinking goes, making the whole region stronger." Continue reading at Black Mountain News for the full story.
---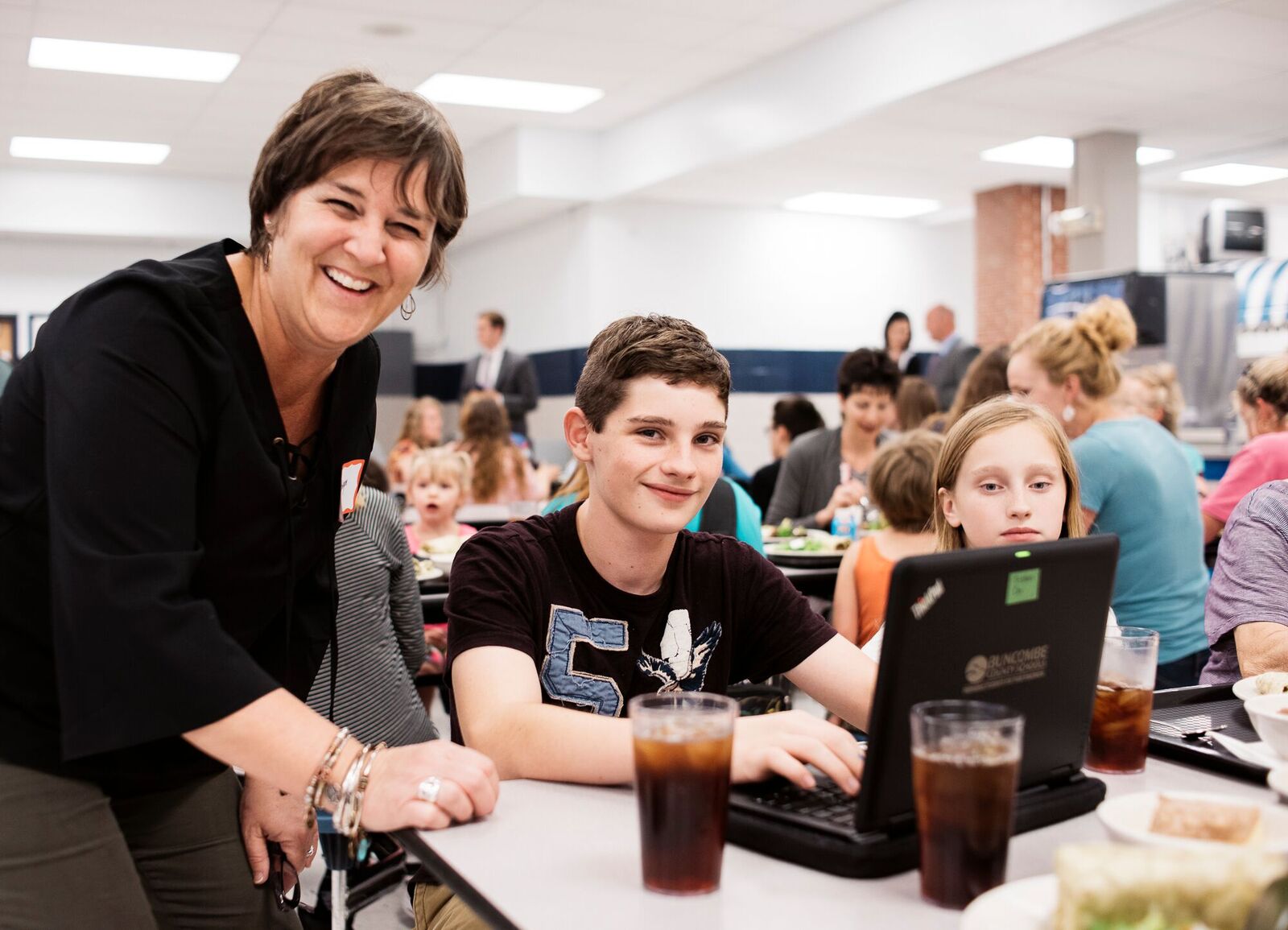 Mountain Xpress-- May, 2017
"Rolled out as a pilot project at Enka Middle School in the fall, the program is about to finish out the school year with tutoring sessions and free, hot dinners being hosted weekly in the cafeterias at Enka, Erwin and Asheville middle schools. Plans are also in the works to extend the effort to Owen Middle School next school year. Although middle schools are employed as the host sites, Homework Diner sessions are open to students and families from all grade levels in the Asheville and Buncombe County school districts.
But the program is a collaboration that goes beyond the United Way and school district leadership. The Green Opportunities catering team, which is staffed with graduates from the organization's Kitchen Ready culinary training program, comes in each week to prepare healthy, high-quality meals for attendees. And for the tutoring component, teachers from schools within each host district are paid to be there to offer students one-on-one help with tricky homework assignments and subjects that have stumped them in the classroom." Continue reading the full story at Mountain Xpress.
---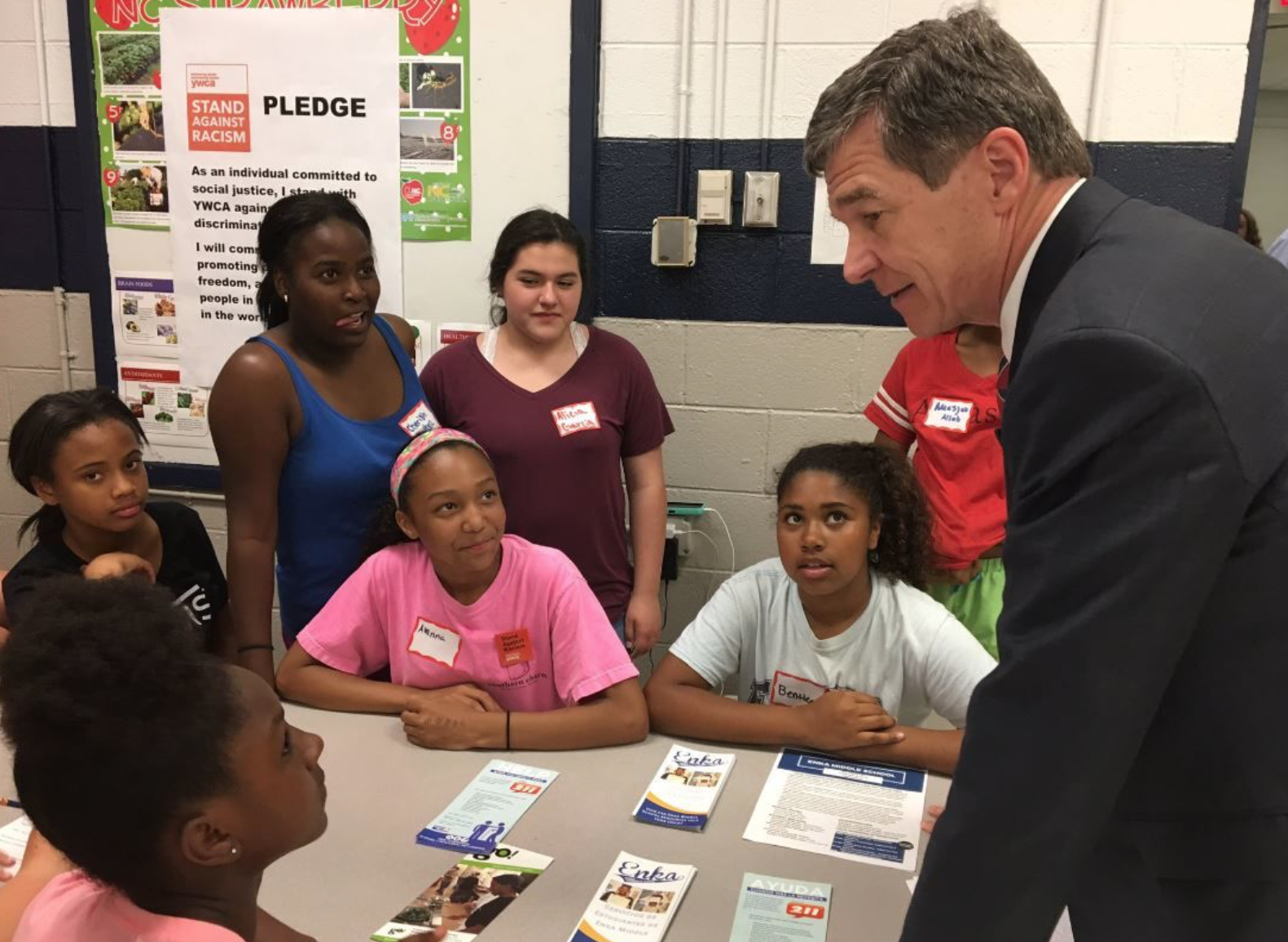 WLOS-- April, 2017
"Gov. Roy Cooper visited students and parents at Enka Middle School on Tuesday. The visit was part of his efforts to bring attention to National Volunteer Week.
The middle school offers free tutoring and dinner weekly through a partnership with the United Way, Green Opportunities, the county, the school district and Asheville-Buncombe Middle Grades Network. The program is called Homework Diner. Seventh-grader Eli Dougherty has been attending the program with his parents since early in the school year. They were one of several families who got to sit down with the governor Tuesday evening. Dougherty's mother Traci Wallace appreciates the extra help."
"I don't have to spend time trying to make the meal and help with homework," said Wallace. "And some of the homework questions I don't understand, they can help him." Continue reading on WLOS.