Tatyana Barrett has worked in Asheville High School/ SILSA for almost two years as UWABC's Community School coordinator...
Her role includes bringing in local organizations and leaders to connect with students, as well as working with administrative staff to provide students and families with the resources, opportunities, and support systems they need to succeed, working toward our vision that every person in our community lives free from poverty and injustice.
Barrett is passionate about her work but knows that positively impacting students' lives do not happen in a vacuum. Current partners, community leaders, and idea movements help do this work, but also historical figures inspire our staff to continue the work that allows United Way of Asheville and Buncombe County serves as the "backbone" organization for the growing United for Youth Network, whose goal is to ensure that by 2035, ALL Asheville City and Buncombe County students graduate fully prepared to pursue their goals and dreams. 
Barrett, sat down to share just one of the many people who have inspired her to support our students every day. "Bell Hooks is one of my favorite inspirations for the work I do now, because, Bell Hooks was one of the leading trailblazers in what Black feminism is and what it could look like for women of color and she was combating that tradition pedagogy of what we thought feminism was", says Barett.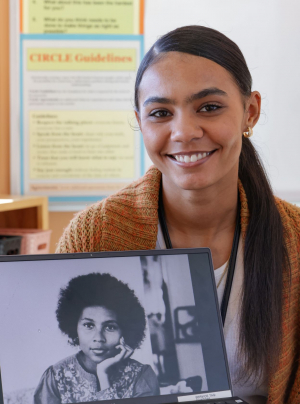 Speaking with Barrett it is obvious from how passionately she talks about the writings of Bell Hooks and the inspiration she has gleaned from Hooks. Barrett explains, "For me doing a lot of work on yourself is important to this work. I think Bell Hooks shed a light on some things I didn't have answers to and pieced together a lot of the things I was feeling, seeing, and observing not only in myself but also in my community…I think Hooks helped me do deep work within myself, which in turn helps me be a better Community School Coordinator."

 
"I think everyone should read all about love. Learning to love in all the different realms of your life, her vision on that is really really strong. It gives love more of an intention and I think everybody can get something out of it."