On Wednesday, October 19th, 2022 the UWABC community schools, Asheville High School/ SILSA and Reynolds Middle kicked off the first of the 2022-2023 school year Community Nights featuring Homework Diners.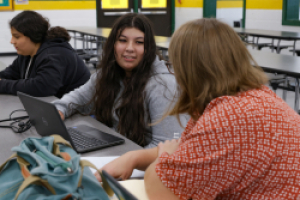 Homework diners may be familiar to you, this after-school program has and continues to offer nutritious dinners and supplemental educational resources to students and families. This program has been an essential part of the Community School model, which UWABC has adopted as its central focus to serve as the "backbone" organization for the growing United for Youth Network, whose goal is to ensure ALL Asheville City and Buncombe County students graduate fully prepared to pursue their goals and dreams by 2035. 
This year the familiar after-school program has gotten a slight revamp, and will now be titled "Community Nights featuring Homework Diners". The new model will still provide all the fantastic food and tutoring services as before but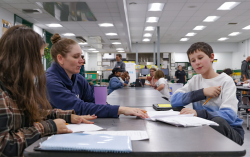 now with an even greater focus on involving the school's entire surrounding community. 
As the first Community Night featuring Homework Diners started in Asheville High School/SILSA and Reynolds Middle School, the United Way staff was present to help in any way possible. Several staff members decided to volunteer their time at Reynolds Middle School and Community Engagement team members Aisha Shepard and Audrey Blackburn visited both Reynolds Middle and Asheville High. UWABC's CEO, Dan Leroy, joined them, using Community Nights' opportunity to speak to Principals, teachers, students, and their families.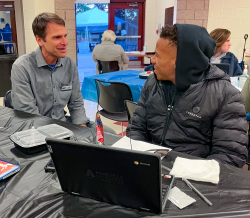 The first two Community Nights featuring Homework Diners of the 2022-2023 school year were a great success. Volunteer tutors were busy answering questions all evening, students and families worked on homework together and were able to sit down and have meals with one another. Community Night featuring Homework Diner is a special experience where students, families, community volunteers, teachers, and school administrative staff can casually gather together and be in a community with like-minded people who share a commitment to the success of Buncombe County's youth.
To learn more about how Community Nights featuring Homework Diners fits into United Way's work CLICK HERE