Earlier this month, in a crowd of 3500 people, from 50 states and six countries, Asheville City Schools Foundation (ACSF) and Laura Elliot of United Way of Asheville and Buncombe County were recognized by the Institute for Educational Leadership (IEL) for their work on behalf of local students at the National Community Schools And Family Engagement Conference in Los Angeles. 
Asheville City Schools Foundation
Greg Hall, program director of ACSF's In Real Life (IRL) After-School program, accepted the Civic Engagement Award from the Institute for Educational Leadership for their work organizing youth, families, and our community to advocate for an equitable public education system.
"ACSF is humbled and honored to be recognized for our work in civic engagement. Our mission is to do 'whatever it takes for all ACS students to thrive.' Each of our programs has evolved out of collaborations and listening projects with Asheville City Schools students, families, staff and our United for Youth network partners. We provide youth and adult learners access to transformational educational experiences during the school day and beyond. Our programs are grounded in a pursuit of equity and the desire to magnify the genius, encourage the curiosity, celebrate the joy, and support the aspirations of our students, teachers and staff." - Copland Arnold Rudolph, Executive Director.   
"We have been partnering with ACSF for over 10 years. Their programs are some of the most innovative in the country. We love how they remain both student-centered and community-centered at the same time," said Kyle Garrett, United Way's School Partnerships Director.
Garrett continued, "ACSF has been instrumental in leading the way in youth leadership in our community. Through IRL, students are able to discover new interests and develop new skills. And programs such as the DREAM (Dedicated, Responsible, Enthusiastic, After-School, Mentors) Team and Racial Equity Ambassadors Program have been transformative for students and school staff alike - creating spaces for youth to show up as leaders with their peers, younger students, and school faculty.  ACSF is a team player and champion of all things Community Schools. We are beyond fortunate to call them a true partner in our collective work and vision."
United Way of Asheville and Buncombe County
At the same event, Laura Elliot was recognized for her work locally and on the national stage, with the Community Schools Initiative Leadership Award. This award is given to individuals that have significantly advanced their initiatives toward broad and measured equitable impact, strengthened sustainability through cross-sector development, and increased the number of Community Schools. 
Elliot serves as United Way of Asheville and Buncombe County's Senior Director of Community Schools and Network Development. On the national level, she serves as co-chair of the Coalition for Community Schools Leadership Network which includes roles on the national Steering Committee and Leadership Team. She has previously served as the chair and co-chair of the Coalition's United Way Learning Community and participated in national-level workgroups to develop Community School best-practice standards.
"It was incredible to stand among thousands of outstanding leaders from across the country and see community leaders from our community receive these prestigious awards, including our very own Laura Elliot," said Dan Leroy, President and CEO of United Way of Asheville and Buncombe County. 
. 
"With Laura's leadership over the last nine years and her enduring commitment to youth, we've been able to secure local and federal funding to expand community schools to 7 local public schools within both Asheville City Schools and Buncombe County Schools. She has been steadfast in her efforts to grow a network of committed partners who are dedicated to a common vision that ALL children and youth learn, grow, and thrive in a vibrant, healthy, and connected community." 
Community Schools - a National Movement
The movement to adopt and expand Community Schools is growing exponentially. The Institute for Educational Leadership expects there to be 25,000 community schools across the nation by 2025. Federal and state governments are prioritizing funding for these initiatives, and organizations like the National Association of Educators (NEA) are advocating for this strategy. 
The community is invited to learn more about Community Schools and to join the United for Youth network, which is a multi-generational, cross-sector cradle-to-career partnership that is committed to ensuring that by 2035, ALL Asheville City and Buncombe County students graduate from high school ready and fully prepared to pursue their goals and dreams. To learn more about this work visit unitedwayabc.org/united-youth-network
 
Most of the Asheville Buncombe crew that attended the national Community Schools Conference.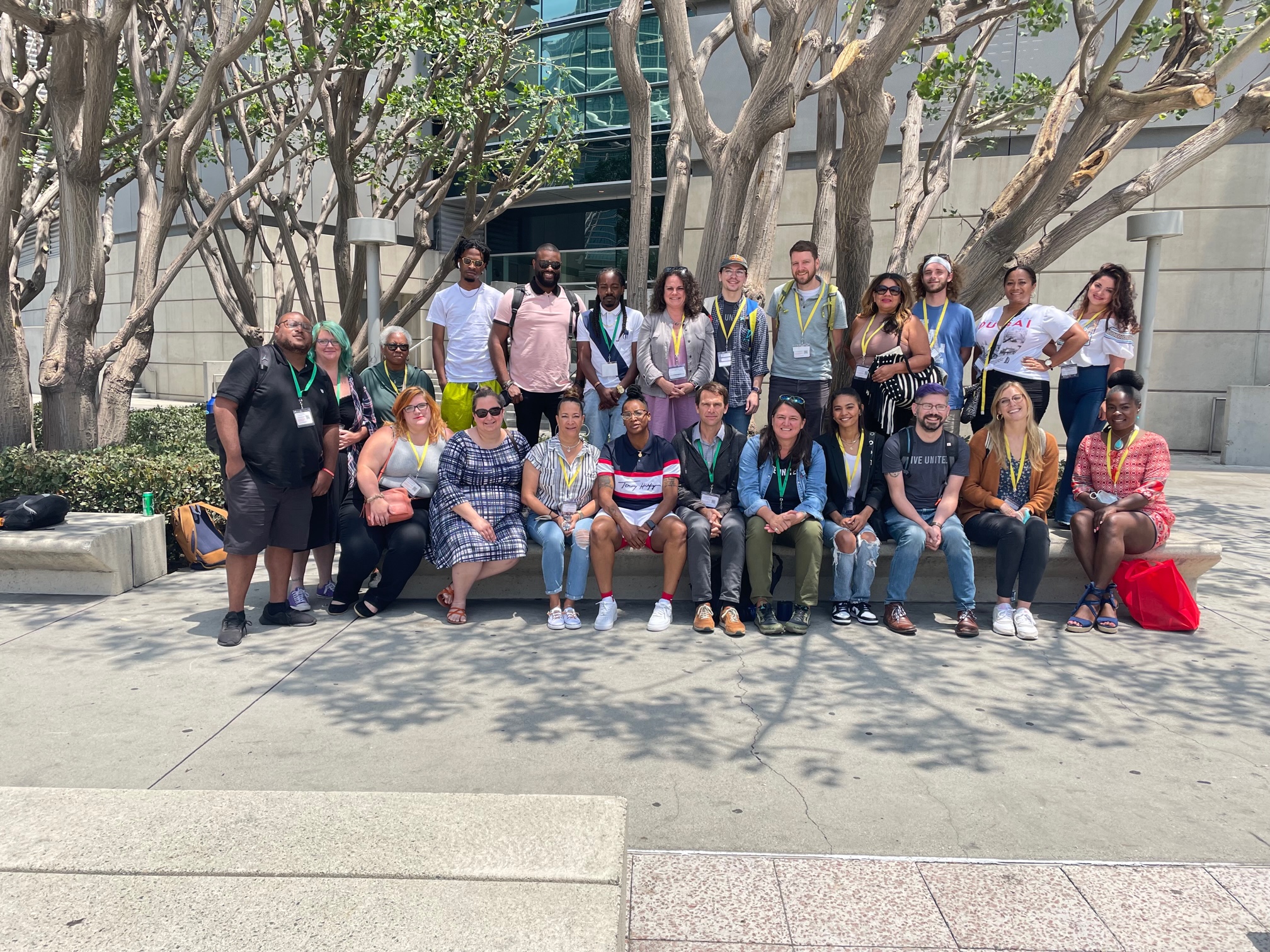 Greg Hall accepted the award on behalf of his team at Asheville City Schools Foundation.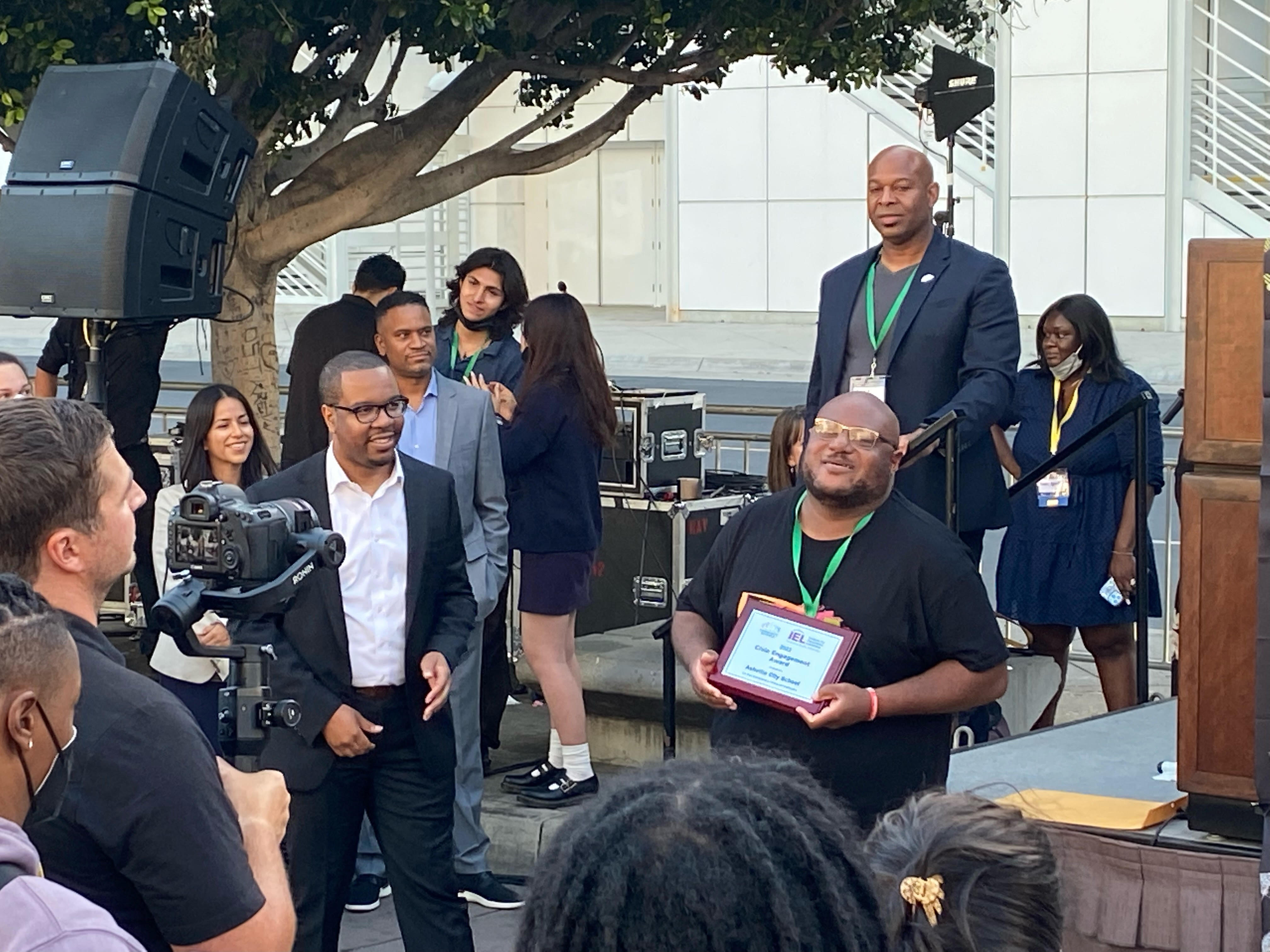 Laura Elliot accepts her award for leadership locally and nationally within the community schools movement.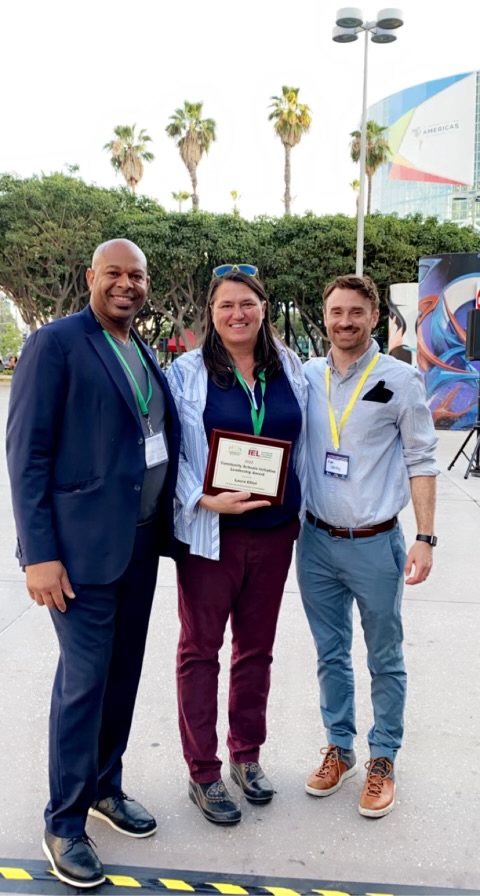 Previous
Next