We believe ALL students can grow and thrive in healthy school communities —
graduating ready to pursue their goals and dreams.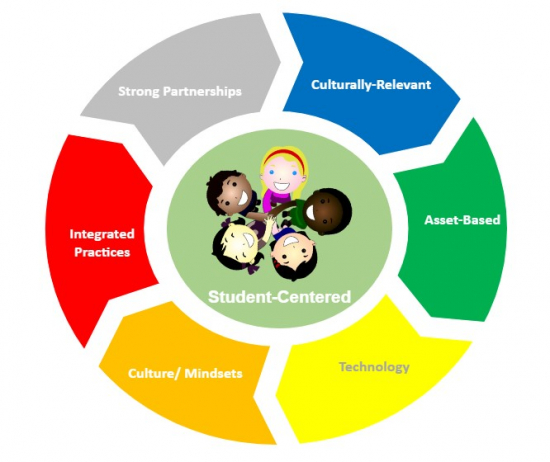 The Student Success Planning framework is designed to appreciate and honor diverse experiences while creating equitable access to resources that support students along their educational journey.
This partnership between Asheville City Schools, Buncombe County Schools, United Way of Asheville and Buncombe County, and local youth services community organizations, works to strengthen the policies, practices, mindsets, and technology that: 
Identify strengths and areas of growth
Connect students to supports and enrichment opportunities
Cultivate intentional collaborative approaches between schools and community partners 
Ignite engagement where communication is valued through listening and respect 
Collectively, we work alongside students and families to identify priorities and set goals in order to systematically create an environment in which ALL students can thrive. 
---
Foundational research names the "ABCs" as the key indicators to monitor for proactive support: 
Attendance (above 90%) 
Behavior (fewer than 2 significant behavior incidents) 
Core course grades (passing all core subject areas) 
 
Social Emotional Learning (SEL) is an integral part of education and human development. In addition to the "ABCs" we focus on 5 key areas of SEL growth:
Self-Awareness — self-confidence, strength recognition, self-perception
Self-Management — goal setting, self-motivation, stress management
Social Awareness — respect for others, empathy, appreciating diversity
Relationship Skills — communication, relationship building, teamwork
Responsible Decision Making — reflecting, analyzing and problem-solving
Interested in a closer, more thorough look at the research and promising practices?
"In a time of disruption, schools must ensure every child is known."

-- Education Redesign Lab of Harvard
The ongoing effects of the pandemic illuminated and reinforced how essential it is for us to shift from deficit-based to asset-based policies and practices — to center strengths when tailoring and co-designing supports. We want to anchor ourselves in the humanity of this system because ALL of our students matter EVERY day. We're increasingly aware of the harm that deficit-based practices cause our students, families, and community.  We are seeking a more well-rounded approach to strengthening relationships and supporting each and every student's journey to graduation and beyond. 
Together, with youth and family leadership, we work to ensure educational outcomes are determined by the high quality of our schools and partner organizations, the abundance and accessibility of opportunities in our community, the strength of our collaborations, and never again predictable based on a student's race, home language, family income, or any other dimension of identity.
Learning Circle Software (a communication platform and central source of data) connects classrooms and communities to ensure the right students are receiving the right supports at the right time by:
Partnering with communities and schools to drive positive outcomes for students
Streamlining communication between school staff and program partners for each child
Measuring and demonstrating the collective impact of educators and community partners
Providing a space for community partners and educators to collaborate through shared documentation
Proactively connecting students with school and community supports and enrichments
Technology on its own doesn't lead to the growth of student outcomes. Schools and community organizations co-design and effectively carry out strong practices through building healthy partnerships. Student Success Planning Lunch and Learns provides opportunities for a team of school staff, community partners, and volunteers to meet quarterly to improve collaborative practices for student support. There are regular opportunities for training and coaching, as well. To join this working group contact Victoria Roberts.
Confidentiality
Access to student-level data is grounded in the federal Family Educational Rights and Privacy Act (FERPA). All school and community partners receive training in mandated practices to protect student confidentiality. Community partners secure parental permission to access students' data and sign-on (organizationally and individually) to uphold these privacy policies and practices.
Where
All ACS and BCS schools (54 schools) and 10+ community partner organizations are in the process of learning and using this system of support. This means over 25,000 local school students can be supported by Student Success Planning. 
Learn More...