Carolina Public Press, a local nonprofit, nonpartisan news outlet, hosted a forum on the issues of hunger, food deserts and food insecurity. You can watch the entire forum below but several of our staff members were there and we wanted to share some thoughts about the topic and issues raised at the event.
Childhood Poverty and Graduation
A former educator at Isaac Dickson, and Food Policy Forum attendee, noted that the poverty rate among children closely mirrors the dropout rate in schools nationwide. And panelist Heather Randall, Executive Director of MANNA FoodBank, shared that while it is often reported that 1 in 4 children experiences poverty, closer analysis shows that in some communities within WNC, that rate is actually 8 in 10.
These points are demonstrated in the chart below that we got from the NC Department of Education. In NC, schools with poverty rates of 50% or more you see the direct correlation to a decrease in performance while the opposite holds true in schools with lower rates of poverty. This chart illustrates reading scores but similar charts can be found for math and other topic areas.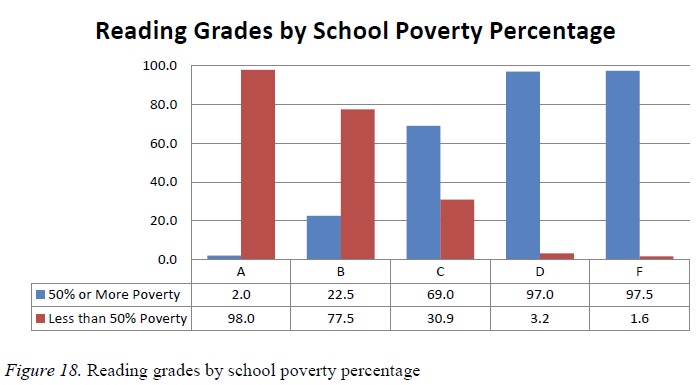 The cyclical nature of poverty is a trap too many in our country and community face. Locally, children in poverty graduate at a rate of 78% while their classmates graduate at a rate of 91% or more. The effects of not having a high school diploma can be profound. In fact, students that do not graduate are:
3 times more likely to live in poverty as adult,
6 times more likely to be arrested, and
can have a lower life expectancy of 9 years.
The impact on each student's life, their family's stability and the overall health of our community is profound.
Our Work
Zack Goldman is new to our community and serves as our Community Investment Manager and helps to manage the details involved with a majority of our partnerships - grant and contract related alike. Zack attended the forum by Carolina Public Press and shared these thoughts: 
This panel gave me a much more specific understanding of food deserts and food insecurity in our county and region. Like any complex community issue, food insecurity is multi-faceted and requires meeting the immediate need  for food and nutrition while simultaneously bringing about mindset and economic changes to ensure that everyone has a sustainable supply of nutritious food in the long-term. The interconnections between hunger, nutrition, agriculture, nutrition education, economic development, race, class, and culture necessitates a multi-pronged approach in our community. It was great to learn more about the organizations and initiatives that are deep in that work and to recognize the areas United Way intersects. From food banks and soup kitchens meeting acute needs, to educators, farmers, community gardeners, and policy advocates who are working to make lasting progress, it is reassuring to see so much quality work happening and progress being made, while the scale of the need seems so daunting.
United Way investments that directly impact and increase people's access to food:
NC 2-1-1 - people throughout our state can dial three numbers: 2-1-1 any time of the day or night to find help on issues of importance to them. Over the last year, more than 2,200 (6%) of the calls to 2-1-1, from the western region of our state were calls about food.
 
Grants & Contracts and mobilization of volunteers

MANNA Packs for Kids and Buncombe County Food Distribution by MANNA FoodBank – United Way has long supported (financially) MANNA's efforts to get food into the hands of families throughout Buncombe County and we also help direct a large number of volunteers to their organization through our website and special projects with our donors.
Kitchen Ready Training Program at Green Opportunities - we support the training program AND we also contract with GO to have them provide meals at the weekly Homework Diners we conduct in three school districts in Buncombe County as a part of our Middle School Success Initiative.
Rainbow in my Tummy at Verner - this nutrition curriculum was founded at Verner but is shared with childcare providers throughout the area
Early Learning at the YWCA - includes "Rainbow in my Tummy" nutrition curriculum and "Farmers' Market Fridays" where various vegetables are brought in, learned about, and then cooked for lunch.
FEAST Asheville – works with area students with hands on learning experiences around growing, cooking and eating healthy foods.
Local Action
Get Help
First and foremost, if you or someone you know is hungry or unsure of where they will sleep tonight or get the medication they need, please dial 2-1-1 any time of the day or night to find the resources you need.
Give Help
For those interested in volunteering in support of food and hunger issues click here. Hands On Asheville-Buncombe, our community volunteer center, is a one stop shop for volunteers. Among the things you can find on our site:
Manna FoodBank's Hunger Response Flex Project: sort and prepare donations or put together MANNA packs for kids
YMCA of WNC Nutrition Programs: Encourage elementary and middle school students to eat healthy and live well, cooking demonstrations and produce distributions with the healthy living mobile kitchen and healthy living mobile market.
Bounty & Soul: assist produce distribution at mobile markets, cooking demonstrations
Watch the Forum
Carolina Public Press WNC Food Deserts and Policy Forum panelists included: Charlie Jackson, executive director of the Appalachian Sustainable Agriculture Project; Hannah Randall, chief executive officer of MANNA FoodBank; Kiera Bulan, coordinator of the Asheville Buncombe Food Policy Council; and Laura Sexton, registered dietitian with Chartwells Higher Education Dining Services at UNC Asheville.