Over the past year, we have worked with people across the community to co-create a new community investment process that is led by community members. This has resulted in a fundamental shift in how United Way of Asheville and Buncombe County invests in individuals, organizations, and initiatives.
Congratulations to the following partners for being selected to receive the first grants issued through the United for Youth Community Grants Pilot process. 
We are honored to work alongside these partners in co-creating a vibrant and resilient community. We look forward to seeing what these amazing partnerships yield.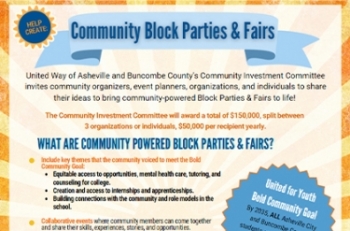 Block Parties/Fairs
(each receives $50,000 each year for 3 years)
KL Training Solutions — My Daddy Taught Me That
Coach Sherman Williams
Team Us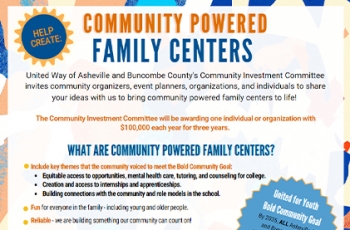 Family Centers
($100,000 each year for 3 years) 
Project Lighten Up Programs of Excellence
There were 38 submissions and all demonstrated vision, action, and community commitment. The Community Investment Selection Committee members carefully considered all and chose these four individuals/organizations who were extremely aligned and integrated all the community-generated themes: 
Equitable access to opportunities, mental health care, tutoring, and counseling for college.
Creation and access to internships and apprenticeships.
Building connections with the community and role models in the school.
and the Bold Community Goal:
By 2035, ALL Asheville City and Buncombe County students
graduate from high school ready and fully prepared to pursue their goals and dreams.
We would like to thank all who participated in this inclusive endeavor, and we congratulate our community partner awardees.