United Way of Asheville and Buncombe County has no shortage of volunteer opportunities...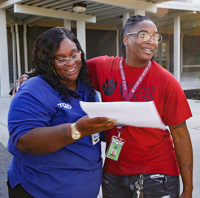 From meal packing, working as a counselor, supporting college students, aiding a computer lab, to gardening, every volunteer makes a difference and everyone has a skill-set that is needed in our community. 
Shataura Dudley, a Community School coordinator, understands the importance of volunteering in the community whenever possible. As Dudley packed and moved tables from outside of Asheville Middle School, where she works as the United Way Community school coordinator, she checks on students who are waiting outside, ensuring each one has a ride home, and greets parents and AMS staff. "I have a passion for people. I love people," said Shataura.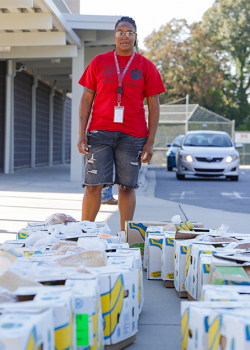 "I want to feel like I'm doing things that aren't about me but for other people. For me, volunteering is evidence that I'm doing my job and that I am putting back into the community that helped raise me." 
The monthly Community School markets, which can be found on UWABC'S Hands On website, are just one of the volunteer opportunities that Dudley takes part in and that are open to the public for volunteer opportunities.  "We sort, pack and distribute food boxes for the community in the school. So students, families, and teachers work with volunteers from Buncombe County." 
Those who take the opportunity to volunteer at the Community School markets can make a direct impact on local families lives and, as Dudley mentioned, "volunteers help the purpose of the Community Schools to be strengthened." The purpose of a Community School is to focus on what students in that area need to succeed through academic, health, and social services, general community development, and community engagement of members both in and outside of the school grounds. Dudley notes that the Community School model, which is one of UWABC's central focuses truly "shows volunteers that they can actually get involved in areas of the community that they don't interact with every day."
United Way of Asheville is partnered with seven community schools and coordinators, like Shataura Dudly, who work alongside students and staff who strive every day to improve and strengthen resources in that area. "I am proud that we were able to make AMS a community school," said Dudley, "and for having resources internally that help families and students feel like they are home away from home." 
To learn more about Community Engagement Market volunteer opportunities CLICK HERE